The Palestinian cause has recently received international attention following the Sheikh Jarrah evictions. Therefore, social-media influencers all over the world took it to their platforms and voiced their support with the Palestinian people.
The male model Qaher Harhash is one of many Palestinians, who have relentlessly voiced their opinion on the matter and continuously raised awareness on their platform, in regards to the Palestinian cause.
Vanessa Perilman, Zara's Head Designer for the Women's department, felt bothered by Qaher's support to the Palestinian cause. The designer does not hesitate in voicing her displeasure in a rather racist and distasteful text message. Wherein she calls the Palestinian people uneducated and hateful.
Vanessa also attempts to flip the situation in her favor. She expresses how the Jewish people are going through a "bullsh*t circus media" against all those who support Palestine. In the conclusion of her text message, Perilman blatantly attacks Qaher's personal life by bringing up his sexuality and religious beliefs in a rather Islamophobic rant. Read below the full message: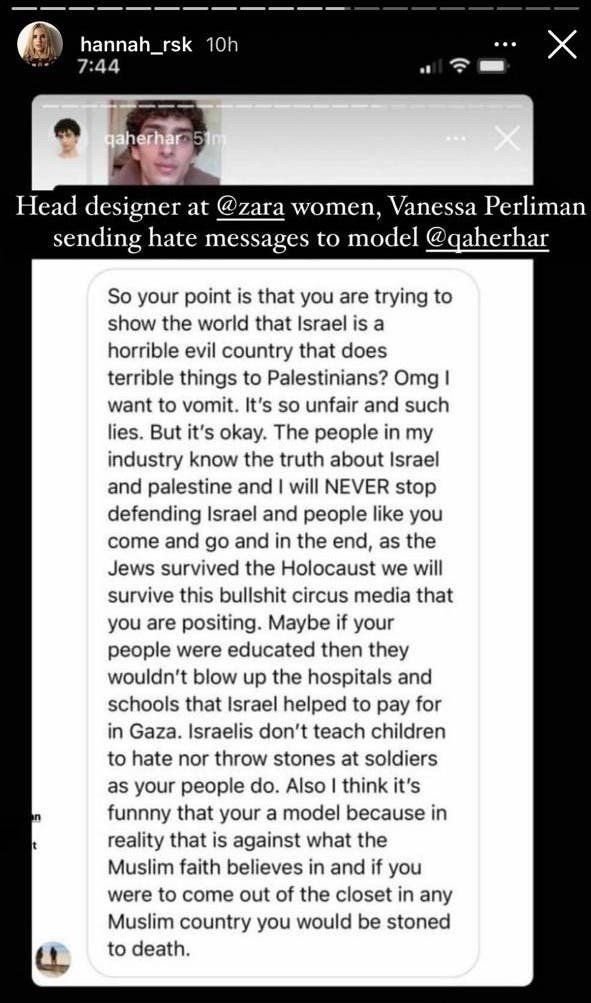 Qaher takes it to his Instagram story to expose the designer, and immediately after the post, many people sent complaints and emails to Zara regarding Vanessa's Islamophobic and racist statements. Thousands of complaints later, Zara finally responded. According to Zara officials, an internal investigation was initiated. It found that Qaher and Vanessa connected with each other through Instagram and that Vanessa apologized. Zara stressed that the company supports diversity and does not tolerate any type of discrimination.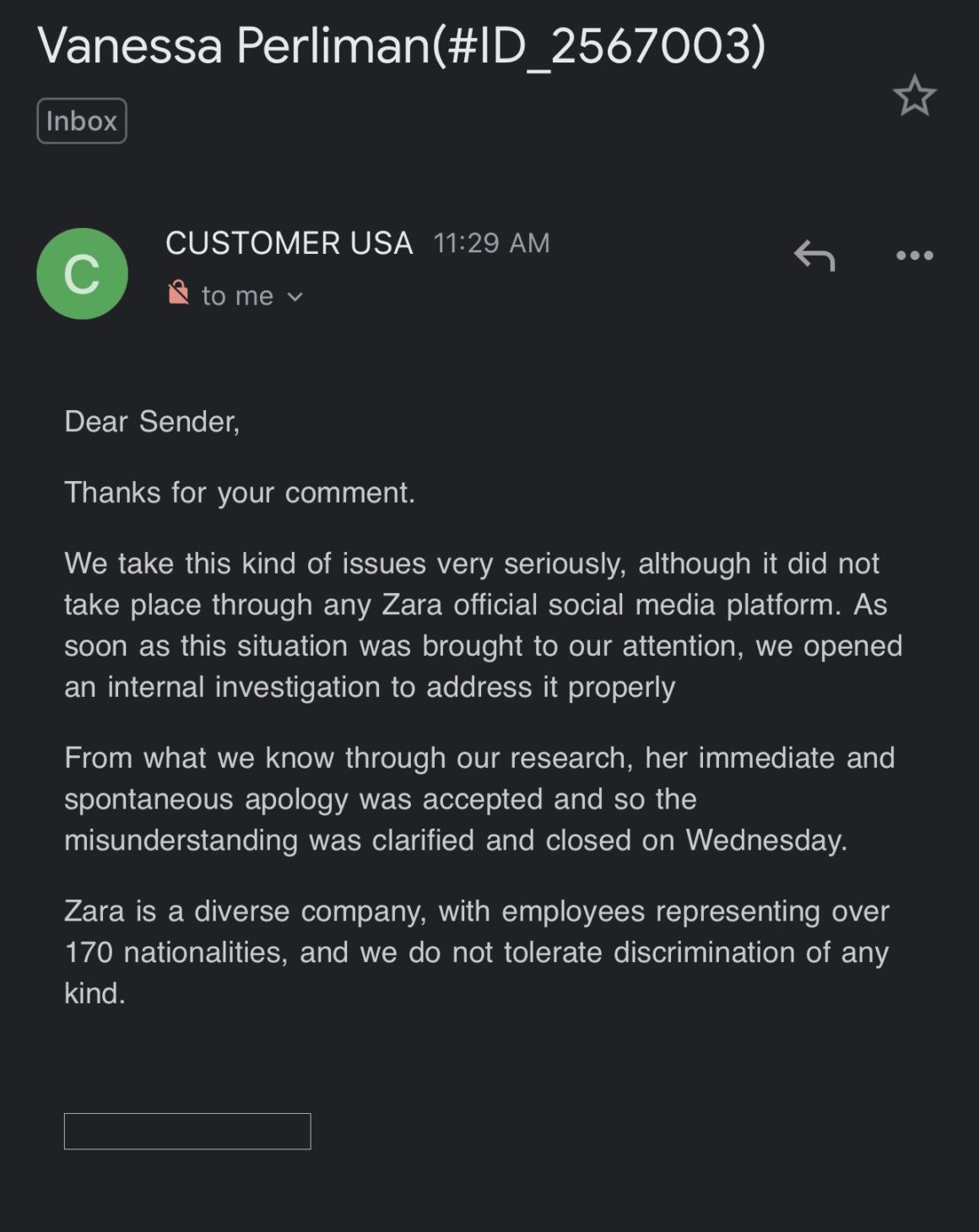 This flagrant gaslighting and generic response from the Zara officials has upset many people. Therefore many internet users took it to their own platforms to express their displeasure.
The Aftermath
Qaher did not remain still. He published more screenshots of the conversation that took place between him and Vanessa, wherein he shows her apology. She goes from gaslighting the situation and attempting to make him the "bad" person for exposing her, to manipulating his feelings by sharing how she is receiving death threats about her children, and how her career is now at risk because of his posts. Vanessa constantly fluctuates between virtual crocodile tears and showing her teeth, in a desperate attempt to calm the storm.
Qaher then shares a couple of statements in regards to the apologies. Sharing that he had to go back and tell Vanessa to "try again" after every apology. He stressed that he was not going to stop fighting for the cause, and fully support Palestine.
"An apology means to fully acknowledge the pain or suffering you caused someone," Qaher says after stating that Vanessa tried to make him understand the Israeli-forced coexistence.
The Palestinian model then called out Zara stated the following :
"If Zara wants to make a statement with me, then the statement needs to say that they stand with indigenous people, stand against what is happening in Chinese concentration Camps, and address the Islamophobia which is predominately ignored by the European Society"

@qaherhar on Instagram
How Is the Media Responding?
The story quickly escalated and Zara was put under fire after the screenshots were shared around. However, Western and some European media remained silent, since Wednesday and did not address the situation. Thus far, mostly Arab or Muslim-owned papers have spoken up. This only goes to show the existing bias in media. These same outlets have previously rushed to cover the story on Dior's previous Creative Director John Galliano, who was fired after his Anti-Semitic rant.
---
⚡️If you like this article, subscribe here to our EMPWR Guide and be first to receive all our latest articles surrounding mental health in the MENA Region, directly to your inbox, every Sunday.
---
Be sure to check out and join our global conversation around mental health on EMPWR's Facebook Community Group.
To learn more about EMPWR Podcasts join EMPWR's Podcasting Community Group on Facebook.
---
💭 EMPWR is currently accepting Freelance Submissions & Art/Poetry here (All articles must comply with EMPWR's writing guidelines for consideration.)
---
Nominate a guest to be featured NOW on EMPWR Podcasts here!