Sarah Seif is the Executive Director at More Of, a platform aiming to accelerate the growth of performing artists through talent development, creative entrepreneurship education and production of shows. She is a Project Manager at E-Commerce Summit and Business Development Executive at robusta
---
The #PeopleOfEmpower Series aims to shed light on mental well-being through the inclusion of influential individuals and leaders in the Arab Region.
---
EMPWR Interviews Sarah Seif!
Sarah! You're an inspiration for the Team, as an artist, musician and a female leader in our community in Cairo!
Could you tell us a bit behind your music and your story? When did you start singing, and how has it affected your life!
Thank you very much Ally.. Your words mean a lot..
To begin with, I'm not a professional singer yet, aspiring to become one very soon actually. I've started singing two years ago.
Let me tell you my story; I actually took the decision to sing when I realized my heart is calling me for something and everyone is making fun of my voice telling me to never sing… So I took it as a challenge where deep down I knew I could be the singer I always dreamt of… So It was like those motivational videos we see all the time I simply decided to "Prove everyone wrong" and that's when I started.
I've only started taking classes two years while at university ago with Renowned Singed: Nesma Mahgoub and Vocal Coach Sherif ElDabe and performed on stage a couple of times.
That's when I started taking it seriously. But after a couple of months later I stopped singing cause I have graduated back then and everyone was putting pressure on me to actually "do a real job" all so I stopped and decided to focus on doing business instead of as an alternative.
But then a year after, I simply didn't feel like I'm true to myself and cut all such chords and took a very firm decision that nobody is to change the core of myself and that ill pursue singing at least as a side hustle till I work on myself a lot.
I've actually never been happier than when I'm singing or surrounded by music. It has always affected my life positively, always leaving me with a GREAT mood; always feel different after rehearsals and jamming sessions than when I stepped in the rehearsal room. I simply feel alive and speaking my heart out in my own language. It made me an empowered human being as well .. trying not to stay in where people want to put me as well as being true to myself.
In that year where I stopped singing, it was the peak of my depression and I realized a big part of it was actually pressuring myself to be something I'm not and hiding my true colors.
And the only thing that got me out of it was, getting back to music, singing, and songwriting.
And the first song I've written was about mental health and getting out of depression .. it made all the difference in the world putting my feelings down and bringing a tune to it. And I definitely can't wait to share it with the world.
Do you see a need for Mental Health awareness amongst our community in Egypt?
Definitely, I personally was struggling with Depression for the past three years and At the beginning, I had no idea what to actually do about it..
For three years I struggled and fought a battle all alone without people being aware of whats going on, they only pressured me cause they didn't see the "cheerful Sara" they were used to seeing.
Have there been more awareness, I believe would it been easier on me, at least not trying to always look happy causing me more pressure, just to please everyone.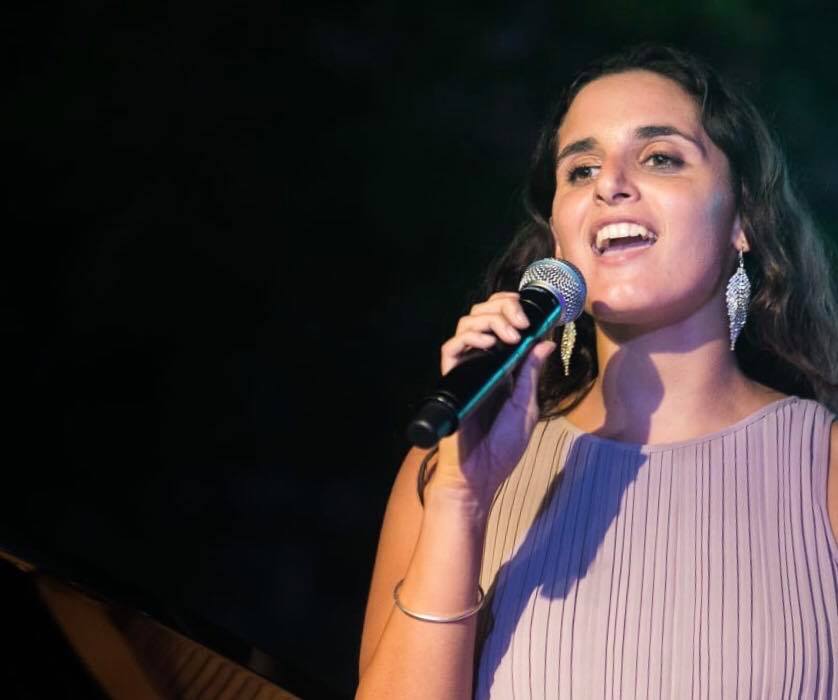 Mental health is a very serious issue that I hope people would pay attention to, just because it isn't visible, doesn't mean it isn't there. I believe most Egyptians are depressed, they just don't know it or know how to deal with it or even ask for help. And this causes major problems not only at a micro-level with individuals, but it affects Egypt as a country with lower productivity levels – which is the least to say.
Mental health should be a top priority for every individual and to all organizations because, at the end of the day, we are our health, and I don't mean only physical but of our mental as well. It must be a top priority.
"More Of" is an incredible initiative that you play a large role in managing!
Could you tell us more about how you empower music Artists?
So, we realized there's a huge gap where there are a lot of talents out there that simply don't know how to pave their way so what we basically offer is two things:
A Gig finding platform, where artists could be able to find gigs and events to play in as in job opportunities.
An Accelerator Program where artists simply grow and work on their music and work on themselves as artists getting to know a lot about the music industry field as well to pave their way right after with ease.
If you had one message, on wellbeing and living with a purpose, what would you like to tell our readers?
Follow your heart always.
If people tell you no, this translates into a yes.
If people tell you you can't, then prove them wrong.
If people tell you you ought to be elsewhere doing something else, hustle in what you're already doing and take the world by storm then.
Always follow your heart, this is the only right path for you.

Want to know where to go? Listen to your heart.
And don't let people belittle your dreams or tell you you're taking the wrong path.
Most importantly, take care of yourself along the way…
Learn to say no to what brings you down…
Mental health comes first then the whole world comes right after that.
---
Make sure to check Sarah Seif's
"MORE OF Platform" here
on Facebook!
---
Get your writing featured on Empower Mag here!
---
Join the conversation on our Facebook Group: "The Empower Community"